This past year marks Tel Aviv University's 60th Anniversary. In the same way as the University is flourishing and achieving more breakthroughs, we at the Australian Friends of TAU, which has been increasingly active in recent years, have in particular expanded this year. Consequently, we have reached new goals in fundraising, increasing partnerships and joint initiatives with local Universities, Government and Industry, more functions and social activities, organizational changes and now starting to expand nationally, given that AFTAU has to date been strongest in Victoria.
This year, for the third year in a row, TAU was ranked number 9 school in the world for producing venture-capital backed start- up founders and entrepreneurs, the only University outside of the US. TAU's top research and organisation, together with its global network, makes it a hub of Innovation in the start-up nation – Israel. The Australian government Innovation agenda and recognition of the growing need for innovation in Australia, has created many potential opportunities for us at AFTAU, to develop new projects and partnerships between TAU and the local community, government and academic institutions.
Last April, our new Executive Director, Boaz Nol from Israel, joined us, and he has been a dynamic and vital part of the AFTAU expansion and success. We have just moved to new offices, are currently hiring an additional executive secretary/office manager to complement Elizabeth Minc in the office, and are expanding nationally. The Victorian office actually runs the national operation, in which AFTAU (Vic)Inc has been joined by the newly-created WA Friends of TAU in Perth and an expanded network in Sydney.
With our friends and supporters' generosity, and Boaz Nol's expertise, we have achieved substantial success in fundraising this year and launched new projects at TAU on behalf of the Australian Friends. A newly renovated lobby at the TAU Engineering School being officially dedicated at the imminent Board of Governors meeting (which will have taken place by the time of this AGM), a new research laboratory also in the Engineering Faculty, the new Australia Gallery at TAU new Natural History Museum (a joint venture with JNF and in honour of the late Les and Eva Erdi), a Scholarship fund for needy students at TAU as well as a fund for Australian students and scholars to come to TAU in partnership with local Universities, all those are among new projects at TAU with the support of our friends and supporters in Australia.
Dealing wth specifics over this past year:
Fundraising
Tel Aviv University has raised this year in Australia over $3.5 M in donations for different projects and another $2M in pledges. This is virtually a record for any single year from Australia and reflects our increasing prominence and activities and also the vital role that Boaz Nol plays.  This was augmented by a very generous bequest from the estate of the late Danielle Rubinstein, a former Melbourne AFTAU supporter who had moved to New York many years ago. She had left a substantial bequest originally partly received some years ago, with the balance received during this past few months.
The major new projects initiated at TAU as a result of donations essentially generated by AFTAU include –
–               New Lobby for the Engineering department – also in honour of the late Danielle Rubinstein
–               Lobby of the Natural History Museum
–               Australia Gallery in the Natural History Musuem – in honour of the late Eva and Les Erdi OAM
–               Scholarship funds
–               New Agriculture research in partnership with JNF
http://www.jwire.com.au/jnf-and-the-tel-aviv-university-hope-to-harvest-research/
Initiatives:
The University of Melbourne – AISEP – Australia – Israel Scientific exchange program – This year, AFTAU led a coalition of Victorian Universities to support exchange programs with TAU and provide funding via the AISEP fund, which is a tax-deductible entity.  In September, we held a big Luncheon event for AISEP co-hosted by The University of Melbourne with guest speaker, TAU graduate Uri Levin, the founder of " WAZE" . Funds were raised for more Australian students to come to TAU via AISEP.
Monash University – AFTAM – The Australian Friends of Tel Aviv University -Monash Collaborative Research Awards Program
This year we have just expanded and doubled our scholarship fund with matching from Monash University for research collaborations with Monash and TAU. Up to eight researchers every year will now receive scholarships and run state of the art research with their fellows at TAU, and including travel between Israel and Australia as part of the awards.
Swinburne University – TAU Joint Research Centre in Data Science –  After two years of development, the first discussions having occurred during TAU President Prof. Joseph Klafter's last visit to Melbourne, we recently signed an agreement for the establishment of a Joint Research Centre between TAU and Swinburne University in Data Science. The joint centre will start working this year with four PhD candidates from both Universities, collaborating on research, and graduating with a joint degree from both Universities.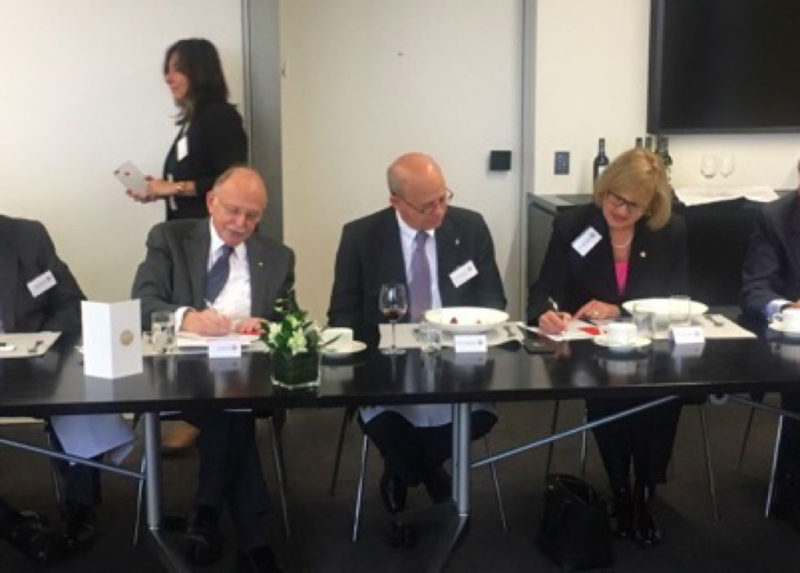 La Trobe University – A new relationship between La Trobe and Tel Aviv Universities is being established with a focus on Agriculture and Food Security, with the expected visit of the TAU Dean of Life Sciences, Prof Danny Chamowitz to Australia this year.  La Trobe joined our AISEP scholarship fund this year and its students can come to TAU for exchange programs. La Trobe University sponsored our "Innovation and Entrepreneurship breakfast with Dov Moran.
Oceana Cyber Security Centre – Government of Victoria – The Hon. Philip Dalidakis , Victorian Minister for Small Business, Innovation and Trade, visited TAU with a mission and signed an agreement for joint research between TAU and Victoria's Oceanic Cyber Security Centre – a network of eight Universities in Victoria collaborating research on Cyber Security. The fact that an Australian consortium saw fit to partner with TAU alone in this venture attests to TAU's major role in high-level technology.
Partnerships:
Jewish National Fund of Victoria (JNF) – this year we developed a very special and fruitful relationship with JNF nationally and particularly in Victoria. Both organizations partnered in our Oration event and raised funds together.
AICC and Young AICC –  AFTAU and AICC have an excellent relationship and often partner in supporting relationships between Australia and Israel. We hold events together with TAU speakers and hosted this year over ten AICC missions to Israel at the TAU campus.
ZFA – as a member organization, we attended ZFA events and fairs, sponsored the "Yom Hazikaron' ceremony and kept involved.
Organizational :
New offices – this month, we moved to a new office, still at the same TOK -H complex but much more spacious and comfortable. You are all invited to visit the office.
Staff – I would like to acknowledge Ms. Elizabeth Minc for her devoted work for our organization over the last 5 years. We plan to supplement Elizabeth's position with an additional role for a new Donor relations and office manager and PA to Boaz Nol and myself.
National Responsibility and double budget – with Boaz Nol, our Executive Director being based in Melbourne, the national operation of AFTAU is run out of our office in Melbourne, including the operational budget nationally.
Tax Deductible status – We are currently developing several potential funds and applying for tax-deductible DGR funds status from the Australian Taxation Office and related bodies, a process that will take about a year and a half. Ultimately however this would allow us to accept direct tax deductible donations towards AFTAU and TAU activities, making donations both easier and more attractive.
New Website – We have been working on a new website, state-of-the-art and user-friendly, informative and readily updateable, which we hope to launch around the time of this AGM. Look out for it!
TAU Down Under Magazine  (Formerly Aleph Tav) – This rebadged flagship magazine of ours is currently in preparation, and should be ready to be published and distributed nationally (as well as sent to TAU and our overseas sister Friends organisations) in September 2017.
Events and Social functions –
AGM 2016 with Prof. Yair Bar Haim , June 2016 – Combating Post Traumatic stress – 45 members attended our last AGM at the home of Rosie and Dov Potaznik with guest speaker from TAU, Prof. Yair Bar Haim, World expert in Post Trauma. Prof Bar Haim talked about the computerized intervention training program he developed, which helps soldiers address pre-combat threats, reducing the risk of PTSD outbreaks post-combat by two-thirds. The program is currently being prepared for full-scale implementation by the Israeli Defense Forces, with the American army showing interest in its adoption.
AISEP Innovation and Entrepreneurship Luncheon with Uri Levine – "WAZE" Founder – over 150 people attended a big Luncheon dedicated to the AISEP scholarship fund hosted by AFTAU and The University of Melbourne. Special Guest speaker was TAU graduate Uri Levine, Founder of "WAZE" the world's largest social navigation app acquired by Google for US $1.2B.  The Lunch was in partnership with all Victorian Universities partnering in AISEP and was a great success. Uri Levine's tour in Australia included four other events in Melbourne as well as Sydney and Perth.
Sara Grunstein Concert – In partnership with the Australian Bach Society – Oct 16, 2016 – 120 people attended a beautiful recital by visiting New York expatriate Sarah Grunstein, The Sydney-born pianist, praised by The New York Times for her 'penetrating musical intelligence', played Bach's famous "Goldberg Variations" in the Melbourne Recital Centre's Salon.
Innovation and Entrepreneurship Breakfast with Dov Moran, Inventor of the USB memory stick – 150 people attended a Business Breakfast on March 2017 at Leonda by the Yarra with guest speaker Dov Moran, the Israeli inventor of the USB memory stick. The event was was co-sponsored with our partners La Trobe University.
Whisky night – March 2017 – A unique Whisky night with the owner of the only Whisky store in Australia was held for our members at Rosie and Dov Potaznik's home. It attracted a crowd of interested people including a number new to AFTAU, and enabled us to reach a wider audience and potential membership with a novel function.
Ms. Margaret Jackson AC Oration 2017, dedicated to Eva & Les Erdi – 150 people attended the prestigious Oration function held at Queens Hall, Parliament house on April 26, 2017 with guest speaker Ms. Margaret Jackson AC, former Chairperson of Qantas and Prof. Joseph Klafter, President of TAU. The Oration was held jointly with JNF Victoria and dedicated to the late Eva & Les Erdi OAM in partnership with the Erdi Foundation. An appeal on the night raised funds for the "Australia Educational Gallery" dedicated to Eva and Les Erdi, and to be substantially augmented with the support of the Erdi foundation, at TAU's new Natural History Museum to be opened in June 2017.
Other activities:
The Executive Committee received briefings from 2 visiting TAU Professors detailing their work. These were Prof Lewi Stone, speaking about his experiences running the TAU /Israel Interdisciplinary Centre for Epidemic Modelling, and Prof Uri Nevo talking about his neuroscience research. These presentations are valuable in giving us insights into TAU research as well as potential research projects worthy of future support.
Monash Global Experience Fair  – TAU is represented by AFTAU as a potential Student Exchange venue, and thanks to the Committee members who staffed it, in addition to a couple of former TAU Exchange student attendees who helped out at the stand.
AFTAU also was a sponsor of the Tikkun Olam Makers, connecting people with disabilities with groups of people, including several of our committee members who attended, aiming to find solutions to aid those people to overcome their disabilities. This global organisation was initiated here in Melbourne by Mrs Debbie Dadon AM, daughter of AFTAU Patron and TAU Governor Marc Besen AC.
Potential future Events for 2017 and on –  watch for details in due course
Ophir Paz Pines – (August 2017) – Israel's former Minister of Internal Affairs, longstanding political leader and head of the TAU Institution for Local Governance.
"The future of Smart Cities, Transportation and Local governments".  To be held in partnership with the City of Melbourne – watch for details in due course .
Prof. Danny Chaimovitz – Dean, TAU School of Life Sciences
"How Israel feeds the world" –  In partnership with La Trobe University.
Special Premiere Movie Night "Ben Gurion – Epilog" – A special screening for TAU members of a unique fascinating new movie produced by a TAU graduate. In partnership with the Melbourne Jewish Film Festival,. It will include an Appeal for TAU's  Tisch Film School.
A high-profile young Australian entrepreneur currently based in the US may be the focus on a function some time around February 2018.
National Activities –
Launching of WA Friends of TAU – During Prof. Klafter's recent visit to Australia, we launched the new chapter of AFTAU In WA., with the leadership of Mr.Clive Donner, Former President of the Rothschild Bank in Perth and a tech Entrepreneur. The first committee meeting was held in Perth in April followed by a series of events, relationship development with local universities and potential donors and even some initial funds were raised for scholarships our of Perth.
ANZAC Day Reception with Former PM the Hon. Tony Abbott MP – 60 people attended a prestigious intimate reception for ANZAC day in a private home in Sydney celebrating the Centenary of the Australian Light Horse battle in Beersheeba with former Australian PM, the Hon Tony Abbott MP, 2017 recipient of a TAU Honorary Doctorate.
Perth Luncheon with Uri Levine, "WAZE" Founder – 150 people attended a special lunch in partnership with AICC in Perth with TAU graduate Uri Levine.
Sydney University Executive MBA module at TAU – For the first time, the University of Sydney Executive MBA program, ranked top in Australia, will include a one week visit and workshop at TAU as one of the modules of the program.
THANKS
This report has been prepared in conjunction with our (still-new) Executive Director, Boaz Nol. After an initial Australia-wide search during 2015, I am delighted that my choice of Boaz and the efforts that went into organising his relocation here in April 2016, strongly supported by TAU, have been amply justified.
Boaz has shown himself to be a dynamic, resourceful and enthusiastic person, a hard worker, and innovative, and it is a pleasure for me to work with him.
Whilst in some respects being President has become slightly easier with Boaz now doing much of the organising, and certainly the fundraising, paradoxically, because of the increased number and scope of AFTAU activities, Boaz's success, and our plans for DGR (tax-deductible) status ,the Presidency has actually become more involved. But it has been a refreshing period, and Boaz is to be commended for his great work, and helping AFTAU increasingly become more high-profile and active.
There are obviously cultural differences between Australia and Israel vis-à-vis how things are done, and personal interactions, but Boaz is settling in very well, whilst on the flip side, people here are getting increasingly used to his dynamism and forthrightness.
Elizabeth Minc, our office manager of over 5 years' standing, deserves special thanks for her ongoing hard work. Elizabeth is reliable and loyal, and has handled the markedly increasing demands of AFTAU running, moreover given that the Melbourne office is now the national base for AFTAU, very well. Elizabeth is to be supplemented to an additional Administrative Secretary, who will work more specifically with Boaz on projects, help with fundraising and effectively act as a PA to Boaz (and the President/myself as necessary).
I acknowledge the great work of our Treasurer, Walter Kastelan. Walter is very devoted, sends quite some time overseeing our financial affairs, payments etc, and is a stalwart supporter of functions and helping organise things. Deputy-President Rosie Potaznik deserves thanks for all her help. Rosie is very good at helping Boaz and Elizabeth with organisation and corralling people to attend functions, and is a very good support. Victor Chesky doesn't attend Committee meetings as he's often travelling overseas on professional business, but he is the editor of our flagship magazine. Previously called Aleph Tav, it is being rebadged as "TAU Down Under" and is due for publication and release in the next 3-4 months. I thank Committee member Gabor Ujvari for his help and support and in particular his willingness to help with setting up and dismantling functions, taking photos etc, as well as Committee members Roger Mendelson, Amir Harel, Ros Kushinsky, Tami Olsha, Tom Beer and Jack Tenen for their support and help in various ways.
In Sydney, NSW Friends Chair Andrew Whitten with his Committee is working hard to promote AFTAU there, and helping Boaz expand the NSW footprint and collaborations with TAU, whilst in Perth, the new WA Friends has just been established under Clive Donner.
At the Israeli end, we are staunchly supported by TAU Vice-President Amos Elad and Public Affairs Director Yael Regev, as well as intermittent Australian visitor and longstanding liaison the outgoing Meir Buber, as well as our traditional TAU liaison Gill Rosner, and I thank them all.
On a different note, I take the opportunity to congratulate those who have received various awards during the year, and again offer condolences to those who have been bereaved or affected by illness. In each case, people have been personally contacted and written to, so I will not reiterate all the names, but our thoughts remain with them.
I thank those who will have attended the AGM at which this Report is being released and presented, and all members and supporters. We look forward to seeing you all at future activities and functions, and also look forward to your ongoing support of AFTAU and TAU.
Dr Victor Wayne                                                                
President
Boaz Nol
Executive Director