"The Love Letter" is a 19-minute-long film that deals with a complex relationship between two female soldiers in the Israel Defense Forces, a novice soldier and her direct superior. The relationship between the two ranges from romantic attraction to standard military bureaucracy. Noa (Gili Beit Hallahmi), a dedicated commander of new recruits in the IDF, receives a mysterious love letter from one of her female underlings. Suspecting that the letter is fake, she's forced to choose between adhering to strict military protocol and giving in to her desire to feel loved, if only for a moment.
The film had its world premiere at the Tribeca Festival's Short Film Competition, where it received special notice in the "Student Vision" category. The film also won the top prize at the Jerusalem Festival's Short Film Competition, and was screened at Palm Springs Festival in the U.S. and many other international film festivals around the world.
"The Love Letter" was produced as part of the "Heroine" project, where five female directors created a short film each, which was then combined into one full-length feature. The project was produced at the Steve Tisch School of Film and Television, under the artistic direction of Michal Winnick and Mia Dreyfus, and produced by Efrat Cohen (Gaudamus Productions), and screened around the world.
Atara Frish is currently working on a TV series based on "The Love Letter", as well as writing a full-length script for a feature film.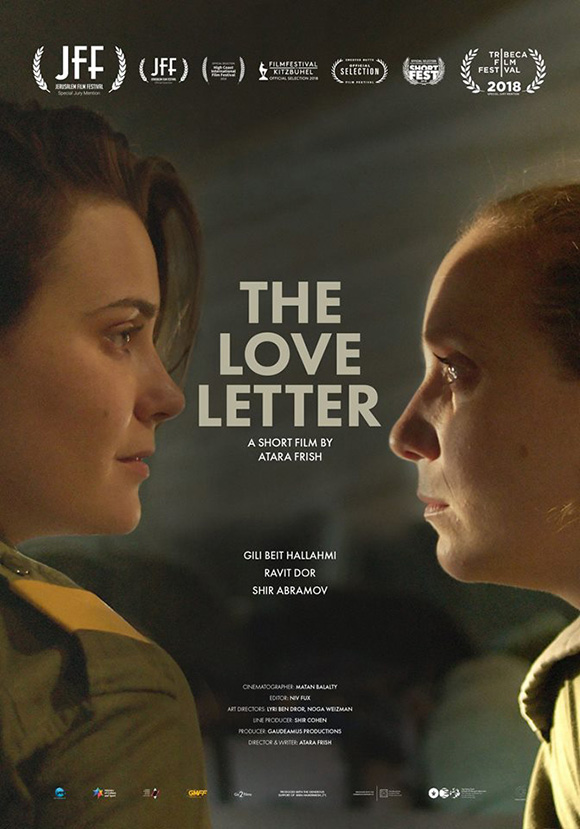 ​